Bespoke Classic Western Style Leather Holsters & Rigs
In 2019 I began "The Frontier Project" as a new approach to a series of portraits set in the mid to late 19th Century during the inexorable Westward expansion of North America. (You can read all about it on the dedicated page for the project).
In order to accomplish this project one of the elements I needed were certain props that I had no real budget to cover the expenses for. As a remedy I decided to design and make, from real leather, items such as belts, pouches, straps, but mostly holsters to get the look and feel of the period.
My curiosity and fascination with leather craft was peaked by this effort, which led me to look deeper into the techniques and engineering of leatherwork. After designing a few holsters for the project I became more and more excited about actually trying my hand at the real thing. I invested in a basic starter toolkit for leather work and set about making my designs more complete and finally reached a point where I made some very durable and authentic heavy leather holsters. All entirely designed, cut and finished by hand.
I have now reached a point in this absorbing project where I am ready to custom make and sell these to collectors, reenactment enthusiasts and classic gun users. You can now visit my shop on Etsy to view and order some of these. Only the designs on this page are on my shop for now, but I shall carry on designing and posting new holsters as time goes on.
Please note all listed item photographs are to show the styles, each will be made specifically to order when you choose the style you are interested in.
Click on the images or the text below, to view/order the items in my ETSY shop.
Now Available on my ETSY store
€320.00 & €300.00 respectively
These holsters are made available as seen here. They are a special edition pair. The "Drifter" (patterned after the classic Slim Jim or California Slim holster style) is designed for the 7.5″ Peacemaker, but it also perfectly fits the Schofield, and the Colt Army/Navy black powder pistols. The "Hand of God" (based on the classic holster carried by Russel Crowe in the film "3:10 to Yuma") is made for the Colt SAA 4.75″ but if you don't mind the barrel extending beyond the bottom of the holster it will fit any barrel length SAA. I have tried it with the Schofield too, and though it fits well it is not a snug fit.
Classic designs for some of the legendary revolvers of the Old West, with natural oiled leather, dyed mid brown with slight antiquing.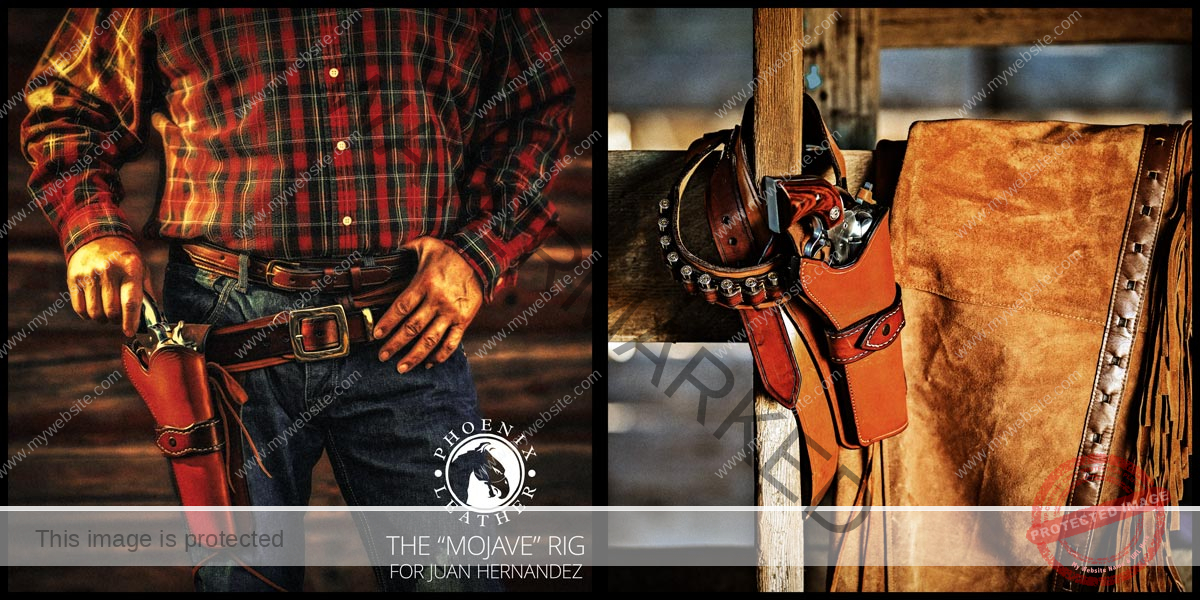 Buyer Review of "Mojave" | ETSY | by
J. Hernandez
"What a wonderful experience! Beautiful craftsmanship, the detail, the finishing of the leather, everything is just a piece of art, I know, I will treasure this holster and ammo belt for a very long time! Thank you so much! Sincerely Juan Hernandez"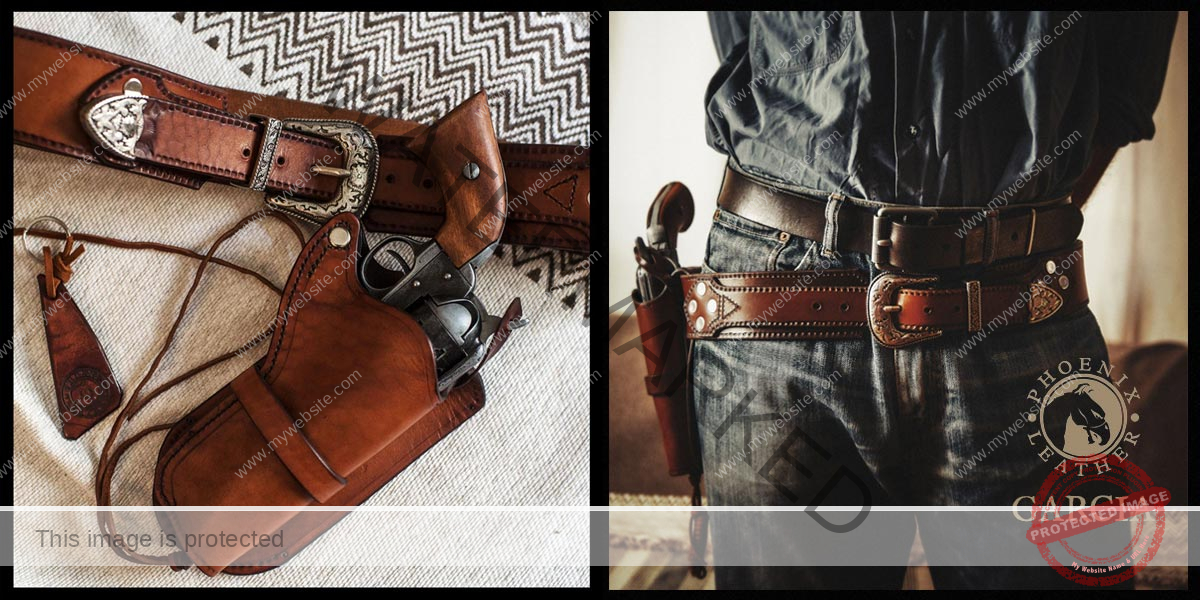 Buyer Review of "Garcia" | ETSY | by
J. Garcia
"I purchased the 'Garcia Rig' recently and could not be happier with this outstanding product! The quality of the materials, design, form, and function is second to none! I've had this rig for less than a month and my Colt SAA revolver fits perfectly and has drawn the attention from several of my fellow shooters. Additionally, Vishy at PhoenixHolsters was a pleasure to work with and always answered my questions and made suggestions in a timely manner. Lastly, even in the middle of a global pandemic, I received the Garcia Rig without delay. Thank you Vishy, your customer service and craftsmanship is much appreciated!"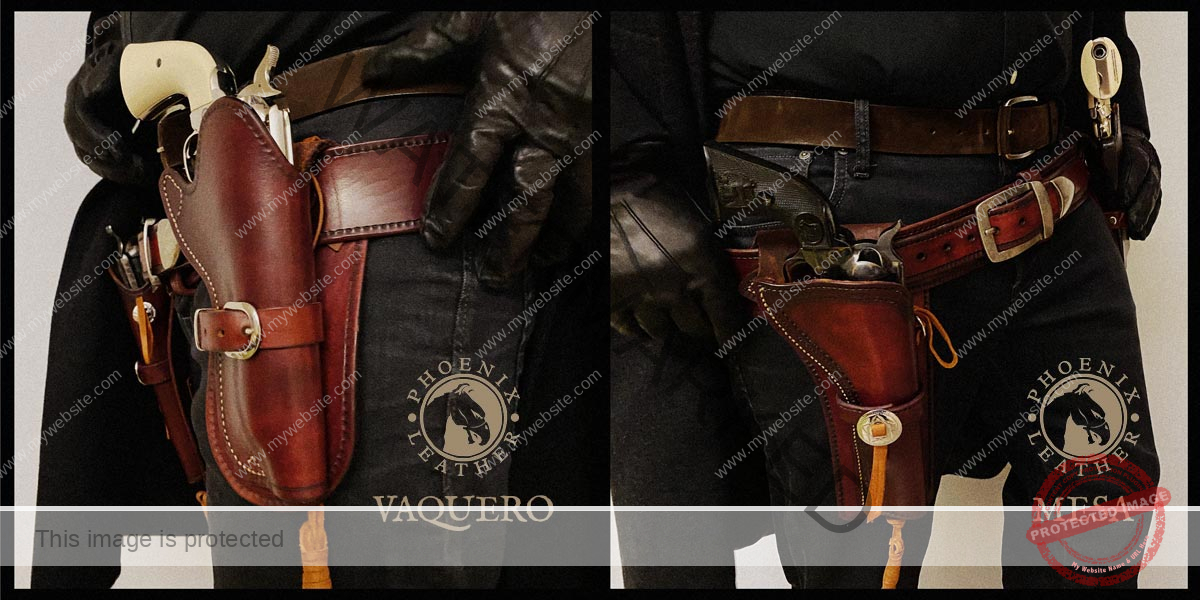 Buyer Review of "Vaquero" & "Mesa" | ETSY | by
Riccardo
"I have been looking for such a holster and gun rig for a very long time and finally found it. For me, this is the best that money can buy! The quality is incomparable and the workmanship first quality. This is true craftsmanship done with love. Vishy at PhoenixHolsters provides comprehensive advice and top notch customer service from A to Z. Had a gun rig with holster made for a copy of a Colt SAA 5.5″. The gun fits like a glove in the holster. Additionally, I ordered a holster for my original Colt SAA in 7.5″ which also fits perfectly. I couldn't be happier and will definitely order from Vishy again. Thanks so much for everything!"